Traveling Exhibits
---
Washington State Jewish Historical Society (WSJHS) proudly offers exhibits that tell stories about the aspirations and interests of Jewish residents of Washington State and how our history has impacted not only our local community, but also the global community.
Please contact the WSJHS office for more information about our traveling exhibits and to make arrangements to borrow them.

The Soviet Jewish Experience: Washington State Stories
The Soviet Jewish Experience: Washington State Stories is a companion exhibit created by the WSJHS to highlight the local efforts made to free Soviet Jews and includes stories from some of those individuals who moved to Washington State from the Soviet Union.
Click here to learn more.
---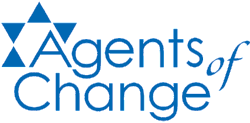 Agents of Change
Agents of Change features women who have made their mark in a wide array of fields including arts, activism, athletics, education, business, diplomacy, law, politics, religion, and philanthropy. This exhibit celebrates the breadth and depth of the contributions Jewish women are making every day in Washington State and our world.
22 Panels
First exhibited: 2018
---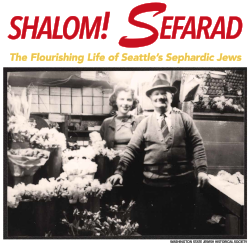 Shalom! Sefarad
Shalom! Sefarad traces the history of Seattle's Sephardic community. The road from Spain to Seattle began to take shape in the early 20th century when two groups of Jews from the Mediterranean (one from Turkey and one from Rhodes, Greece) began immigrating to the United States. Ultimately, they found their way from Ellis Island to the tall timbers and salt waters of the Pacific Northwest, where they founded Sephardic Bikur Holim Congregation and Congregation Ezra Bessaroth, respectively. The Turks and Rhodeslis are quick to point to their nuanced differences, yet they are united through a joyful spirit that defines Seattle's Sephardic community.
44 Panels
First exhibited: 2017
---

Passport to Washington
Passport to Washington captures the stories of Jewish migrations to Seattle. Themes of this exhibit include arts, education, music, food and wine, science and medicine, public affairs, and technology.
26 panels
First exhibited 2016
---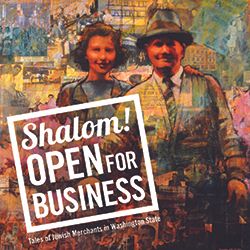 Shalom! Open For Business: Tales of Jewish Merchants in Washington State
Shalom! Open for Business explores the Jewish immigrant experience of building better lives in the Pacific Northwest. Learn stories of the triumphs and challenges faced as these immigrants found their place in a new society. Discover a century of Jewish merchants whose business innovations ranged from selling supplies to Alaskan gold prospectors to establishing businesses that still operate today.
68 panels

First exhibited 2014
---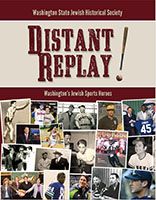 Distant Replay! Washington's Jewish Sports Heroes
From horse racing to basketball, boxing, football, tennis and more, Distant Replay! captures the stories of Jewish athletes in Washington State. 
27 panels

First exhibited 2012
---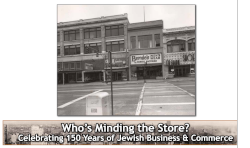 Who's Minding the Store
Who is Minding the Store offers a window in the lives of Jewish merchants in both Pierce and King counties. Many of these pioneers fled persecution in their countries and were drawn to the Pacific Northwest by family, friends, and an entrepreneurial spirit. Highlights of this exhibit include the stories of the Schwabacher Brothers, Jacob Furth, Alfred Shemanski, Adolph Friedman, and Isaac Pinus, Adolph Packscher. 
185 panels
First exhibited 2009
---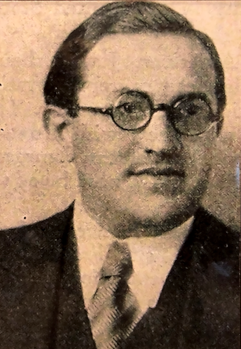 The Musical Legacy of Samuel E. Goldfarb
The Musical Legacy of Samuel E. Goldfarb recounts the fascinating life of "Mr. Jewish Music of Greater Seattle." Samuel E. Goldfarb was a pioneer American Jewish composer and arranger who also served as the Music Director of Temple De Hirsch Sinai from 1930-1967. 
---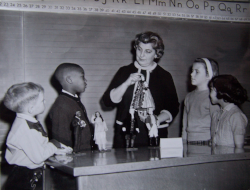 Dolls for Democracy
Dolls for Democracy exhibits a unique collection of dolls, made up of miniaturized three dimensional portraits of important figures in history. Most were handmade by doll artist Cecil Bullard Weeks from the 1940s through the 1970s. The collection represents many interesting people, including George Washington, John F. Kennedy, and Haym Salomon.
2 panels
42 dolls
First exhibited 2009