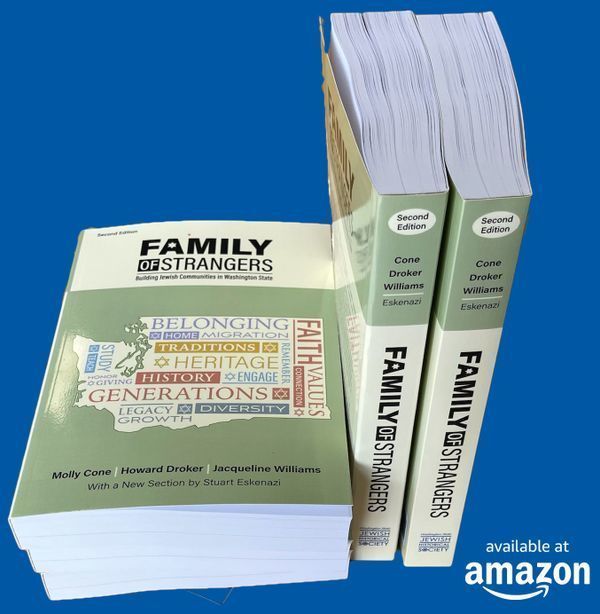 Family of Strangers is a publication by the Washington State Jewish Historical Society first published in 2003. In 2022, WSJHS announced a second edition, adding a New Epilogue and commentary to further develop the Washington State history shared in the original.
From early immigrants to recent transplants, Jews in Washington have made notable contributions to civic and cultural life in their local communities, state, nation, and world. Family of Strangers draws on hundreds of newspaper articles, oral histories, and one-on-one interviews to provide the first comprehensive account of Jewish communities and people in Washington state. 
Transplants migrated to Washington to work within the state's robust tech-based economy. Younger generations, feeling increasingly disconnected from their Jewish identity, searched for occasions to recall their history and honor their heritage. Jewish organizations and institutions responded, offering myriad opportunities for all Jews to engage and embrace their Jewishness, no matter how they might express it. Strangers, perhaps. But connected as one family. 
---
Our Sponsors
Legacy Leaders — $50,000+
Rita and Herbert Rosen Foundation
Faye Sarkowsky
Preservationists — $25,000+
Isaac N. Alhadeff Foundation  
Jon & Bobbe Bridge
Sharon & Marty Lott
Mel & Leena Sturman
Archivists — $18,000+
4Culture
Richard and Dianne Arensberg & Family
Sustainers of Our Community — $10,000+
Cathy & David Habib Foundation
Rosalind B. Poll
Lucy & Herb Pruzan Family Foundation
Deborah & Doug Rosen
Alfred & Tillie Shemanski Testamentary Trust
Iantha & Stan Sidell
Helen Stusser
Builders of the Family — $5,000+
Gail & Bob Alexander
Grandchildren & Great Grandchildren of Dora Levy Cohen
Jacquie Bayley
Joel & Maureen Benoliel
Jodi Green & Mike Halperin
Fisher Family Foundation
Loeb Family Foundation
Ann Nieder
Jacob Policar Family
Judith Ross
Reiner Family Foundation
Betsy & Jacob Schneier
Seattle Area Attorneys Group
Alfred & Tillie Shemanski Testamentary Trust
Gold Ticket Holders — $2,500
Alhadeff Family Foundation
Larry Benaroya Family Foundation
Nick & Michelle Keller
Kline Galland Home 
Judy & Joe Schocken
Quint Family Foundation
Silver Ticket Holders — $1,800
Albert Israel
Bronze Ticket Holders — $1,000
Dan Bridge
Marilyn & Dick Brody
Grant and Kathryn Degginger
Susan & Lewis Edelheit
Arlene Ehrlich
Leonard Garfield
Sonny & Gena Gorasht
Dennis Goldstein & Robin Rogel-Goldstein
Ruben Owen
Joyce Dickhaut and Linda Peterson
Joel Erlitz & Andrea Selig
"Mishpacha"
Kline Galland Home
Jewish Federation of Greater Seattle
"Kesher"
Samis Foundation
"Chaverim"
Central Synagogue in Midtown Manhattan
"Ahavah"
American Jewish Committee
Anti-Defamation League Pacific Northwest
Congregation Ezra Bessaroth
Congregation Beth Israel
Herzl Ner Tamid
Hillel at the University of Washington
Jewish Family Service
Stroum Center for Jewish Studies @ University of Washington
Stroum Jewish Community Center
Seattle Hebrew Academy
Sephardic Bikur Holim
Temple Beth Am
Temple De Hirsch Sinai
---
---
Organizational Sponsors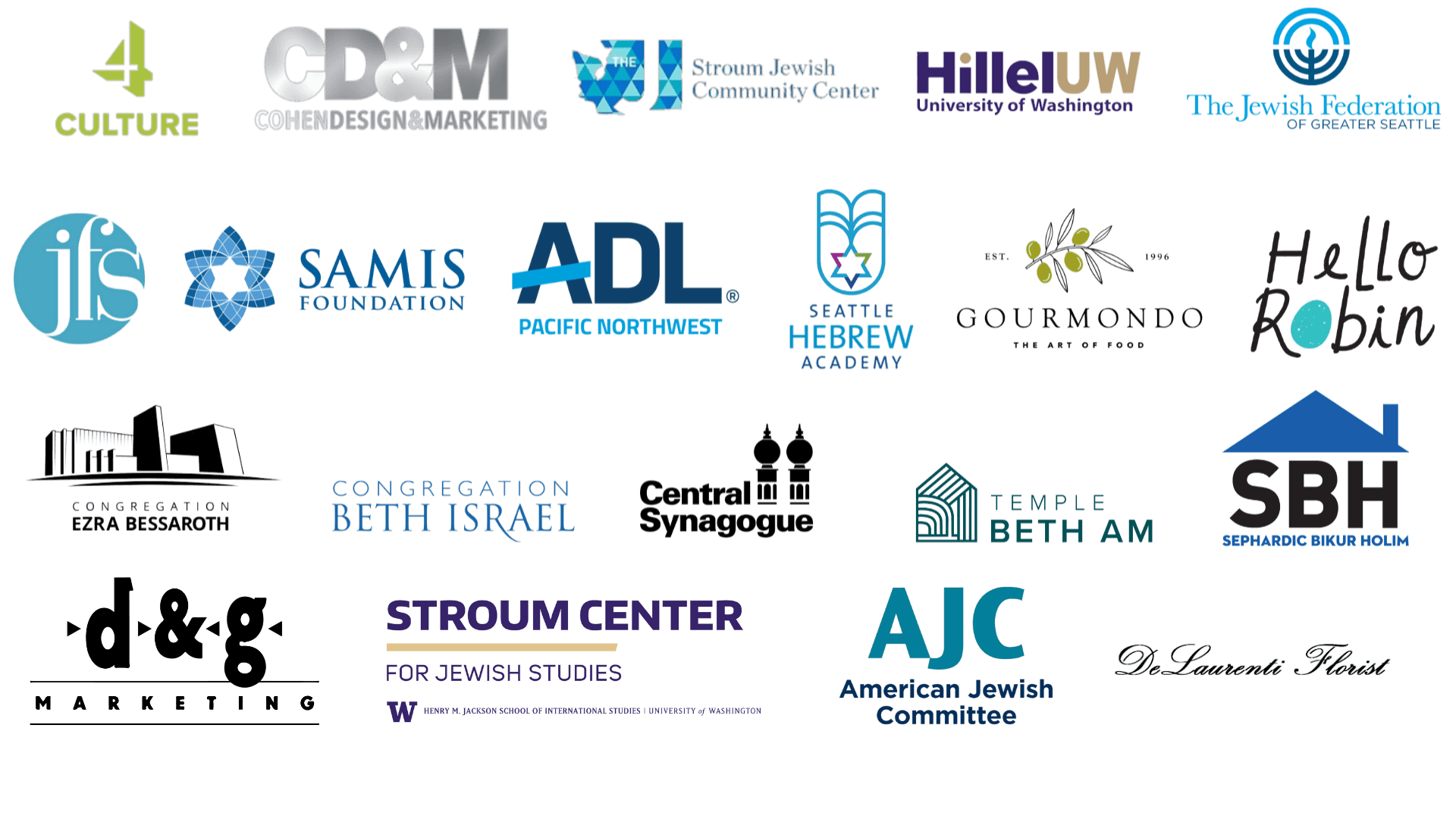 ---
Our Sponsors