Our Collection
---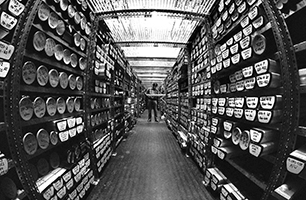 Washington State Jewish Historical Society (WSJHS) maintains two important and distinct collections:
Washington State Jewish Archives (WSJA), housed at the University of Washington Libraries Special Collections is the repository for documents, personal papers, oral histories, and unframed photographs. The Jewish Archives Collection gives the history of the WSJA and currently provides access to digital images of select photographs. Our Research and Online Tips will help locate other materials. The WSJHS Archivist and the University of Washington Libraries Special Collections staff jointly administer and maintain this vast and invaluable archive in a safe, climate-controlled environment. Contributions to these collections, once accessioned, become the property of the University of Washington.
The WSJHS Artifact Collection consists of artifacts that WSJHS is collecting in anticipation of a Jewish museum, including Judaica, framed documents, photographs, textiles, and a wide variety of items pertaining to the Jewish experience in Washington State. Thanks to a grant from the Altabet Memorial Fund, the holdings are processed and documented according to museum standards.
If you have items of Jewish historical significance that you want to preserve in our collection, please keep WSJHS in mind. We invite you to donate to the Washington State Jewish Archives or to the WSJHS Artifact Collection where your gift will help ensure that present and future generations can enjoy and share in our rich and diverse heritage.