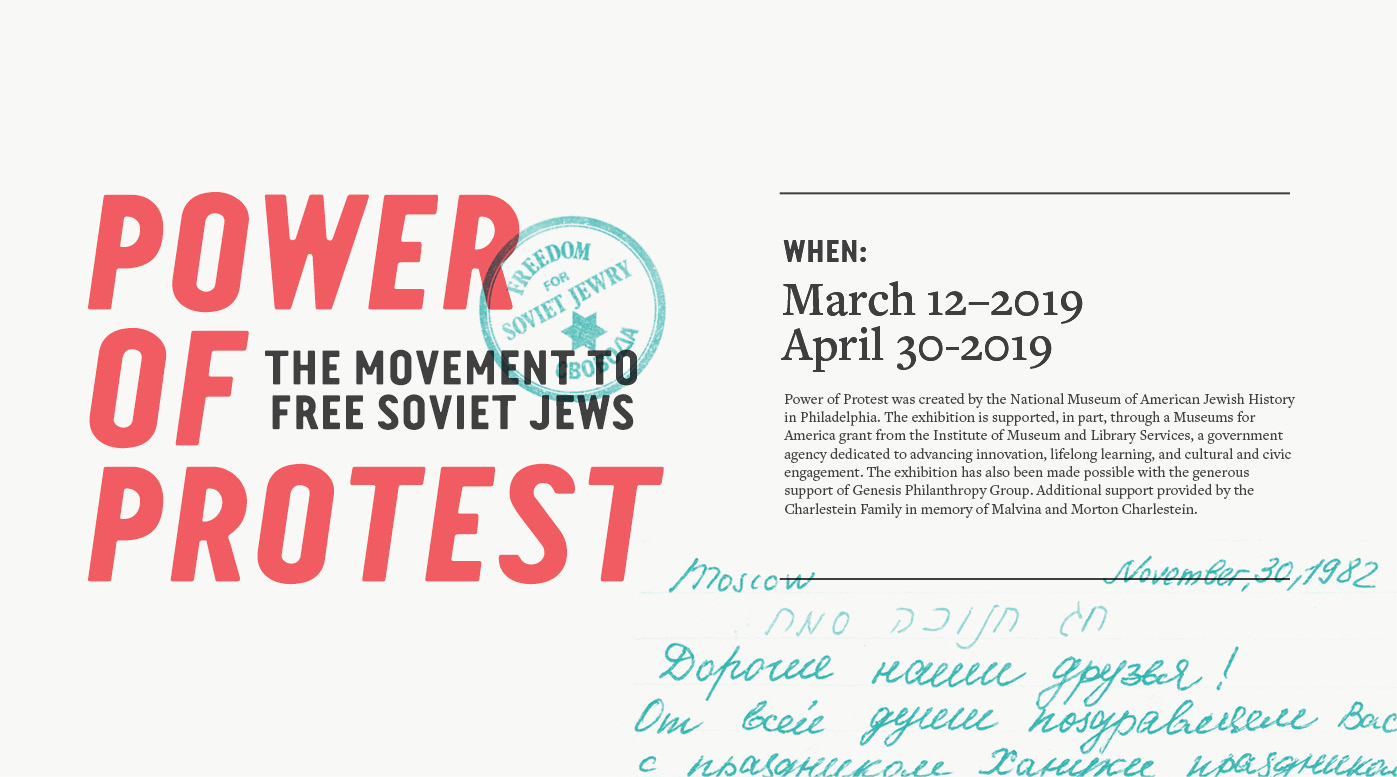 ---
The Power of Protest: The Movement To Free Soviet Jews is a powerful exhibit from the National Museum of American Jewish History. The Washington State Jewish Historical Society is proud to have this exhibit as our first nationally touring exhibit. The WSJHS is creating a companion exhibit "The Soviet Jewish Experience: Washington State Stories." This local exhibit will highlight local efforts made to free Soviet Jews along with stories from some of those individuals who moved to Washington state from the Soviet Union. 
The traveling exhibition Power of Protest, created by the National Museum of American Jewish History in Philadelphia, "showcases Americans' efforts in the late 1960s through 1990 to free refuseniks—Jews who lived in the Soviet Union and were denied the rights to live freely, practice Judaism, or leave the country due to their religion."
Registration for our community opening on March 12 will open soon. The community opening will feature a presentation by Sasha Senderovich, who is an Assistant Professor of Russian Studies and Jewish Studies in the Department of Slavic Languages and Literatures and the Jackson School of International Studies at the University of Washington, Seattle. His publications include a translation from the Yiddish, completed jointly with Harriet Murav, of David Bergelson's Judgment: A Novel (Northwestern University Press, 2017), a number of scholarly articles on Soviet Jewish literature and culture as well as on the work of contemporary Soviet-born  immigrant Jewish authors in America. He has also written, among other publications, for Los Angeles Review of Books, Jewish Currents, The Jewish Daily Forward, The New Republic, The New York Times, and Seattle's own The Stranger.
Since many refuseniks came to Seattle, we are thrilled to be able to tell local stories as well. We are in the process of creating our own panels, containing these stories, to be displayed alongside the national show.
If you or your family are refuseniks or have personal stories to tell about this social movement, please consider sharing your story with us! Send these family stories to Sara in the office, or contact us for information, at info@wsjhs.org. Research is currently being conducted, so we ask you submit your stories as soon as possible.
---
Refusenik
The film REFUSENIK will be screened on April 9.
The film is the first retrospective documentary about the 30-year grassroots, human rights campaign to liberate Jews behind the Iron Curtain. It is being shown on the occasion of the touring exhibit, "Power of Protest: the Movement to Free Soviet Jews" and the local companion exhibit "The Soviet Jewish Experience: Washington State Stories" that will be available for viewing before the film.