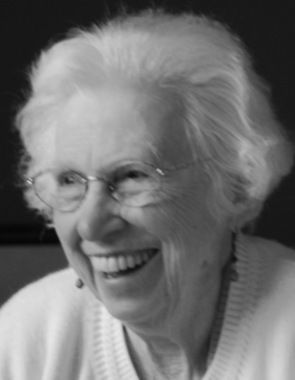 Jean Sadis died on Saturday, December 19, 2020.
From the Seattle Times: Jean Sadis, daughter of Seattle's Sephardic Jewish community, and beloved mother of Harvey and Linda, died peacefully at age 102 on December 19, 2020. Jean was born during the 1918 flu pandemic, quarantined after giving birth to Harvey in 1946 during the polio epidemic, and lived her last year through COVID. Jean was as brilliant as she was generous and loving, devoted to family and proud of her heritage. She was part of Seattle's history for more than a century and enjoyed a wonderful life.
Jean's parents, Harry and Sarina Tarica, arrived in Seattle in 1911 from the Island of Rodes in the Ottoman Empire, and became leaders in their new immigrant community in the Central District. Harry, who attended night school while selling produce by day at the Pike Place Market, became the president of the WA Chiropractic Association. He was a founder of Ezra Bessaroth Synagogue. Harry was a natural in business and imparted those skills to his daughters. Sarina's hospitality was legion, welcoming members of the growing Rodesli community into their home for meals or extended stays. Jean and sisters Rachel and Lorraine learned the art of keeping comidas ready on the stove and bulemas and borekas in the oven. Lifelong lessons of hospitality, service and frugality were planted early.
Jean graduated from nearby Horace Mann Grammar School and Garfield High, where she excelled in mathematics, graduated early, and set her sights on a business career. She was hired at the Benjamin Franklin Hotel as a public stenographer, taking shorthand dictation and composing letters for businessmen. In short order, her skills and exceptional memory came to the attention of management who promoted Jean to assistant hotel manager.
When Jean left the hotel for marriage to Joe Sadis at war's end, it took 3 people to replace her.
Jean and Joe grew up across the street from each other in the Sephardic enclave on 25th Avenue and Cherry. Their romance blossomed during their wartime correspondence and, when Joe returned from New Guinea, still wobbly with malaria, they were married in January 1945. Son Harvey was born in 1946 and daughter Linda in 1950. Jean and Joe were an amazing team, raising their kids and working tirelessly as volunteers to help build a new synagogue in Seward Park. Joe landscaped and maintained the synagogue grounds, while Jean headed the women's auxiliary, then became the first synagogue office employee.
Like many of the Greatest Generation, Jean and Joe shared incredible financial discipline, always banking one paycheck and paying cash for every purchase. Both had high energy and enthusiasm, and they loved meeting new people outside their community, as much as they cherished gatherings with their extended family.
Jean was a consummate radio listener. Harvey loved sitting with Jean at the kitchen counter, listening to the Seattle Rainiers baseball games, broadcast at lightning speed by Mr. Baseball, Leo Lassen. And, as a proud FDR Democrat, she introduced her young children to presidential conventions and the Army-McCarthy hearings while she did the ironing.
Jean's career hiatus didn't last long. In 1958, Jean became executive secretary to Jack Pruzan, later his son Herb, at their eponymous telecommunications company. For 25 years, she was an indispensable employee, applying her administrative talent and math skills, at the right hand of the CEO. She proofed every sales invoice, applying her savant memory to the company's inventory of thousands of catalog items, reference numbers, and prices. Jean saved the company hundreds of dollars every week, routinely correcting the salesmen's errors. She was the company database decades before computers. A cousin and co-worker exclaimed, "Jean Sadis was the smartest Jewish woman I knew." Jean would have shattered several glass ceilings if she were working today.
After retirement in 1983, Jean and Joe traveled widely and often. They were among the first travelers to China in the early 80s, had an extended visit with relatives in South Africa and Zimbabwe, and walked in the path of their ancestors in Turkey and Rodes. They especially loved visiting Mexico and Spain where they used their first language, Sephardic Ladino, as good enough Spanish to connect with everyone they met. For Jean and Joe, travel enabled them to reach out to people all over the world. Jean loved spreading her wings as much as she embraced her roots. Mashallah!
For 25 years until age 90, she volunteered at the reception desk of Swedish Hospital Cherry Hill campus. She had instant command of all the doctors' names, their offices, and phone numbers. She didn't need to rely on the computer, though she was able to operate it through her 80s.
Jean's memory was legendary. It came naturally to her. She knew phone numbers, addresses, dates for weddings, births and deaths, bar mitzvahs, travel itineraries, genealogy, and employment histories of every family, synagogue and community member. Hardly a week went by when she wasn't settling a family's argument about anything that involved dates. Yet, when memory loss began in her 90s, she accepted it with grace and dignity. When words eluded her, she never failed to smile at the sound of Harvey's singing and the voices of family members and her beloved caregivers. She was engaged to the end.
When Jean's 63-year marriage to Joe ended with his death in 2007, she moved to The Summit on First Hill, gave up her car, continued playing mahjong, and reunited with childhood friends. For the last 8 years, she joined the Supported Living community at Horizon House, where she was the oldest resident at the time of her death. She was embraced by her caregivers, who called her "Mama" Jean, and loved her beautiful smile. We will always be grateful to all Supported Living staff who were devoted to Jean's care and happiness, including Ann, Eden, Waldet, Azieb, Zerbab, Mesfin, Saras, Lourdes, Venita, Yohannes, and Senan. And Ellen Goldblatt's loving friendship from the day Jean moved in has been a gift beyond measure.
Jean is survived by son Harvey Sadis and Harriett Cody, and daughter Linda and Ronn Seligman. She was beloved "Noni" to her grandchildren, Karen Seligman, Joshua Seligman, and Halley Cody; and great-grandchildren, Nina, Dylan, and Cayden. Jean is survived by her "baby" sister and best friend, Lorraine Cordova (age 97). She was preceded in death by her sweet brother Dr. Sam Tarica, who died in November, and by her sisters, Rachel and Regina.

Zichrona Livracha, May Her Memory Be a Blessing
Published on January 31, 2021
Donate to WSJHS in memory of Jean Sadis.