Yom Hashoah: Holocaust Remembrance Day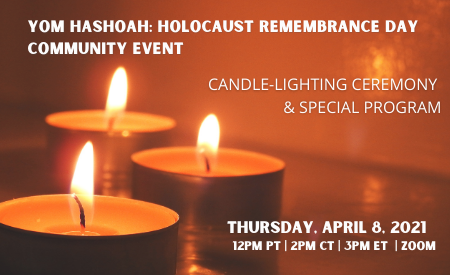 The WSJHS invites you to join the Holocaust Center for Humanity on Thursday, April 8 at 12pm for Yom Hashoah: Holocaust Remembrance Day in commemoration of the 6 million Jewish people and the millions of Non-Jewish people murdered in the Holocaust.
This free, virtual program includes a community candle-lighting ceremony (Bring a candle and turn on your camera to join) followed by guest speaker Rabbi Tamar Malino of Spokane's Temple Beth Shalom. Then, a program entitled "Ingrid and Maud: A Holocaust Story of a Rescuer and the Rescued" featuring special guests Ingrid Steppic and Maud Dahme. Ingrid and Maud met when they were young girls - one Jewish and seeking refuge from the Nazis, the other part of a family helping to hide Jewish people. Join us for a live conversation with these two remarkable women.