Traveling Collection
---
The Society proudly offers exhibits that are rich and diverse in history. The exhibits tell the stories of the aspirations and interests of Jewish residents of Washington and how our history has impacted both the local Jewish community and the greater community of our state.  Please contact the WSJHS office for more information and to make arrangements. 
Shalom! Open For Business: Tales of Jewish Merchants in Washington State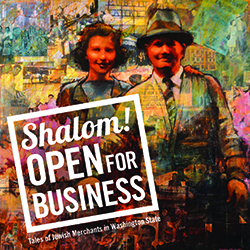 This is the newest exhibit presented by the Washington State Jewish Historical Society.  Around the turn of the 19th century, two sets of Jewish immigrants arrived from Eastern and Central Europe and the Mediterranean. Possessing different cultures but sharing a common faith, they set up shop—and shops—across the Puget Sound region and our entire state to build better lives for their families. 
As generations have passed, some of the small family businesses have grown into successful companies of national and international repute.  Through challenge and triumph, Jewish merchants have strived to embody the character of the versatile word they used to welcome customers to their stores and offices: Shalom!
This exhibit was on display at the Museum of History and Industry in Seattle from July 2014-January 2015. It was awarded the 2015 David Douglas Award from the Washington State Historical Society.
Distant Replay: Washington's Jewish Sports Heroes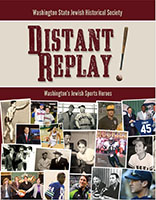 Distant Replay! is a collection of stories about Washington's Jewish sports heroes.  The stories reflect what we love about sports.  They are full of intrigue and accomplishment.  They are thrilling, surprising, and moving.  The stories illustrate how our local athletes have overcome competition and biases, feats that do not just require ability, but a strength of character as well.  In addition to the 23 panel exhibit, there is also a companion book available for sale.  Contributing author Dan Aznoff is available to give presentations about the book with anecdotes and highlights.  
In The Land of Rain and Salmon: Jewish Voices of the Northwest 1880-1920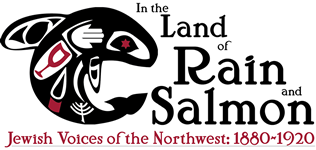 Imagine hearing your grandfather's voice for the first time in 30 years telling you what it was like to take a boat from the old country without speaking a word of English or having more than 25 cents to his name. Or maybe listening to your cousin talk about borrowing money (with no interest) to open a store. How about hearing your aunt describe baking biscochos or making matzo ball soup, just like her mother did? You can experience these moving moments during a live performance that will take you into the lives of early Jewish pioneers in the state of Washington – some of whom you may remember, others whom you will discover for the very first time.
This production won the prestigious Association of King County Historical Organizations Board Award in 2014.  While it is no longer touring, special arrangements may be possible.  
In The Land of Rain and Salmon: Jewish Voices of the Northwest 1880-1920 is an original theatre production by the WSJHS and Book-It Repertory Theatre.